So if any of you noticed, I added a few new sections to my site:
My Kick it List
Blogs I stalk
Pix I Take
Stuff I Make/ CraftCult/ Etsy buttons
Twitter
Facebook Fan Page
Too-Pretty-To-Stress-Tuesdays button
My
Kick it List
is simple- A list of things I want to do in my life before I finally kick rocks to that Big Spirit in the Sky. I'll be adding to it and marking through things I've accomplished. When I do something really big and exciting, I'll let you all know :)
It's a really fun and therapeutic way analyze and assess your life, so I encourage you all to do it!
Blogs I Stalk
is a place where I put up the buttons of my favorite blogs. So don't be surprised if I ask you for yours! :) And if you want, I'd love if you grabbed mine :) I'm not looking for a ton of followers just to have a high number ala Myspace. I just truly want to connect with other moms I love and moms that would love me if they got to my blog.

Pix I Take
is exactly what it sounds like- pictures I take and want to share with the world. Some are repeats of contests I've entered, but I'm going to put them there so they don't get lost in the mix.
Stuff I Make
is just a listing of things I have for sale on Etsy and other arts and crafts I make that I thought you'd like to see :)
Twitter
- Yes I have finally made a Twitter account I will actually use! And now I am officially obsessed. So if you tweet, head on over to the right hand side of my blog and follow me! I'd love to follow you and keep up with all of your lovely lives. You can find me at @thepunkrockmom :)
Facebook Fan Page
- And in the spirit of self-promotion, I've made a fan page for my blog/ Etsy. So if you are on Facebook and you like what you see, head on over and like my page! I would consider it a great honor and I love all the people that have taken the time to like me and follow my (mis)adventures on FB. Also it's great if you want to keep up with my blog and such while having your morning cup of joe and perusing FB :)
And lastly, but not least-ly, my Too-Pretty-To-Stress-Tuesdays button/ feature.
This is something that I'd love for you all to participate in!
On Tuesdays, grab my button and put up a list of things that should make you stress, but don't since you are just too gorgeous to do so.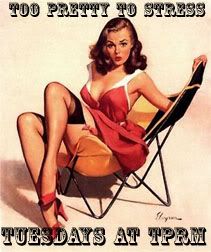 For example- Today my hair is too gorgeous to bother worrying about the fact that my 9 month old pulls it out in clumps every time I pick him up.
I'd love to make this into a kind of
contest
, so the more people that participate the better! Eventually, I'd like to have a monthly give away contest where I
give away something really great
(like books or crafts I make). So I would take the 4 winners of the month (one per week) and have a
vote off for the prize winner!
So it's win win all the way around! I have lots of ideas for it, so let me know what you think.
There will also be Linky lists so that you can put up your entry/ blog for others to see.
Win win win!
I love winners. :)
<3