Hello to all of you fabulous mommies and mommies to be (daddies too :)) and awesome bloggers!
I want to stop and take a minute to tell you about some awesome sites I've been working for/ helping out recently.
First up is
The Joy of Giving Birth
!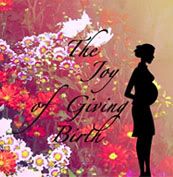 This wonderful and amazing site is more than just a website. It's a community for moms, moms to be, and all parents. You can set up a profile, add pictures, add blog posts and content, chat with other moms and parents, and get to know and support moms around the world! So please stop by and join. You won't regret it!
The community was made and is maintained by the lovely Tomica- she's doing it all singlehandedly! Running the site, working, going to school, and most importantly, being a mom. She really is a woman after my own heart! Check out her
blog
,
book site
and follow her on
Twitter
while you're at it. You won't regret that either :)
(Side note: Like the Joy of Giving Birth black, white and pink header? I made it! And I made the grab button above. If you'd like me to design something for you, feel free to contact me! :))
And lastly but not least-ly is the Blog Brew Review!

This is a really wonderful blog review site run by a great group of gals. They pick blogs they run across and that are suggested to them and give short and sweet reviews. So you can browse through their reviews and find blogs that suit your tastes. They have taken a lot of the random guess work out of finding blogs that you'll love!
These ladies are very 'pro small blogs,' so if you'd like your blog to be featured, head on over and
check out their application process
. It's short and sweet, just like they are!
Would you like to contribute?
Check out their contributor application
and if you dont suck ;) they'd love to have you as an occasional contributor!
So go on over and check out their site! You just may fall in love and I know you'll find plenty of new blogs to stalk :)
(Side note: I just started contributing to their site, so go over and look for my reviews! I just may have reviewed you! :))
<3